Just as a trigger warning this post talks about heavy subjects such as sexual abuse etc.
The Sleep's Hill tunnels have a colourful history, originally built as a train tunnel, converted into a mushroom farm and even used to store ammunition and the state archives most valuable items in WW2. When I came across the entrance of the tunnel for the first time, I was confused at why such a large and imposing structure was covered in specific graffiti. The graffiti was referring to it as the "Pedo Tunnels" alongside other phrases like "Kill all pedophiles" and "Fuck Pedos". After seeing this I knew there must have been more to this story.
The Sleep Hill's tunnels were built over 100 years ago in 1883 for RX90 steam trains on the Adelaide to Aldgate line. Both tunnels were built 600 meters away from each other, one in Eden Hills and another in Panorama. When trains exited the 290m long tunnel in Panorama they would pass over a large Viaduct, standing about 30 meters above the gulley. The tunnels were dug by hand by men who were paid only 7 shillings per day for their efforts. In 1919 the viaduct couldn't support the weight of the Heavier locomotives so a third tunnel was built to the east. This new line was much more convenient because it had a dual-track which resulted in the original tunnels being abandoned.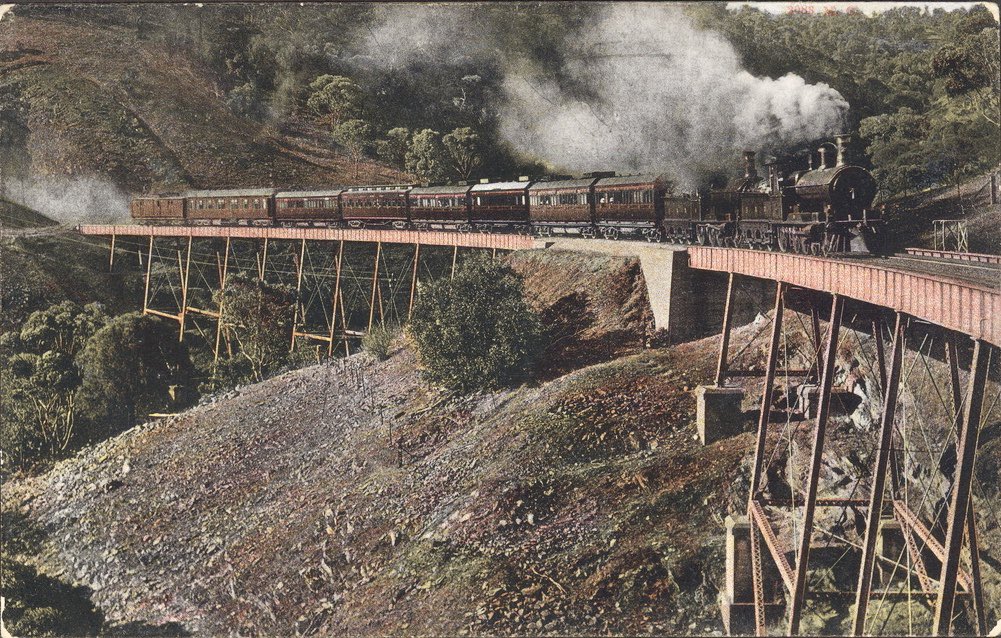 The Adelaide to Melbourne Express crossing railway viaducts at Eden Hills in the Adelaide Hills. – Source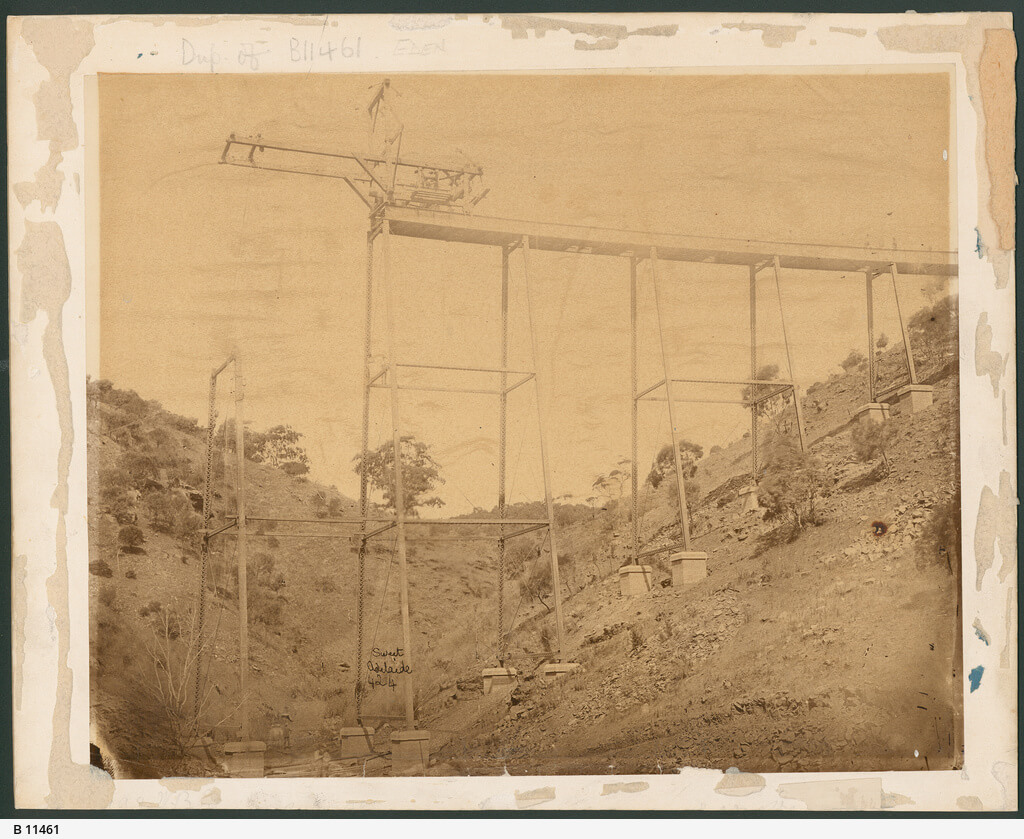 Viaduct and tunnel on Hills railway to Nairne in course of construction. The concrete piles for the bridge supports can be seen dug into the hillside. – Source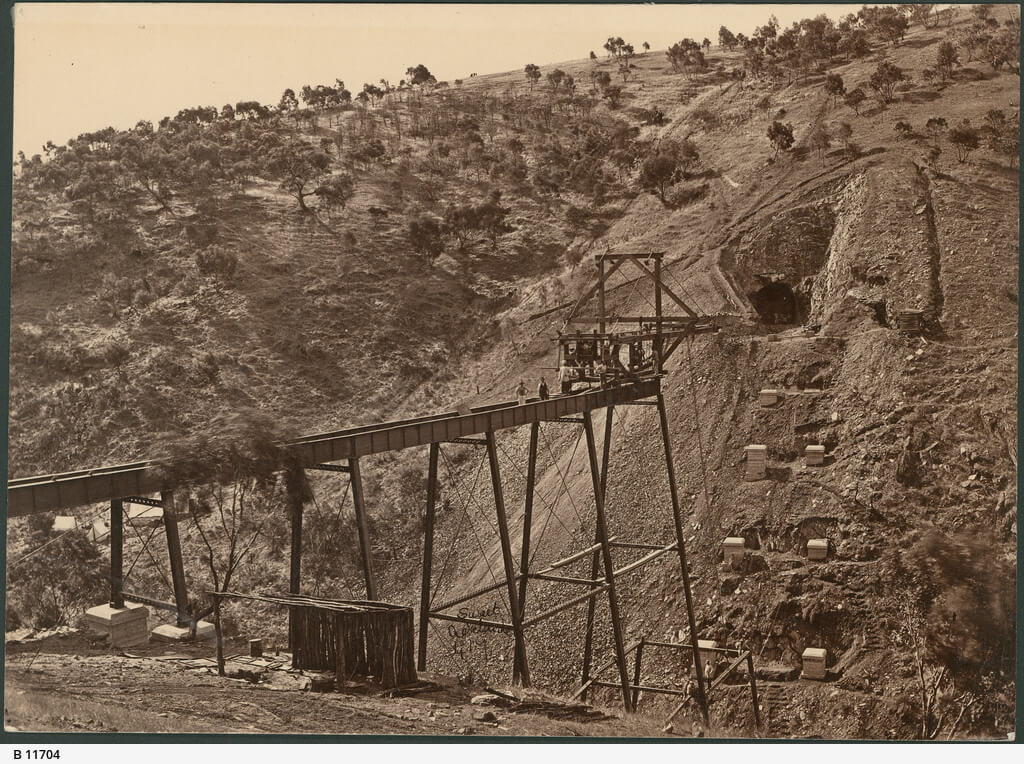 Railway bridge near Eden Hills, in course of construction. Sweet Adelaide 424. The 108 foot high viaduct was prefabricated in Delaware, USA at a cost of thirteen thousand pounds and assembled on site in approximately 1882 – Source
The abandoned tunnels became an exploration area for the locals until World War II in the 1940s. Australia became increasingly concerned about Air Raids from Japan so the tunnels were heavily guarded and used for the storage of important items. The 150m tunnel in Eden Hills stored the State Library's most valuable documents, artefacts and records and the 290m tunnel in Panorama was used to store ammunition.
In the 50s-90s, The tunnels were used for a mushroom farm by S.A Mushroom Company. The business had several hurdles getting the mushroom business off the ground, such as a rat plague that completely decimated a crop of mushrooms in 1951. The rats entered the tunnels through a drain and ate the entire crop, managing to avoid all the poison left for them. Claims were made that the tunnels seemed to have a "hoodoo" on them and the first three growers were forced to abandon them due to fungus and diseases. Eventually, S.A Mushroom company grew into an extremely successful business exporting up to 2000 boxes a week. The tunnels were State Heritage-listed in the 90s and are now used by a wine storage business.
After my exploration, the tunnel gave me a creepy vibe that I just couldn't shake – the gut feeling that something just wasn't right with this place. After doing some research and talking to some people in the know, I found out some serious allegations had been made about these tunnels by Rachel Vaughn. Rachel is a notorious character around Adelaide, most know for her theory that there is an (unproven) tunnel system under Edwardstown that is used by a network of Pedophiles. This may seem far fetched however, she is the daughter of Allan Maxwell McIntyre, a known pedophile and person of interest in the unsolved "Beaumont Children" abduction.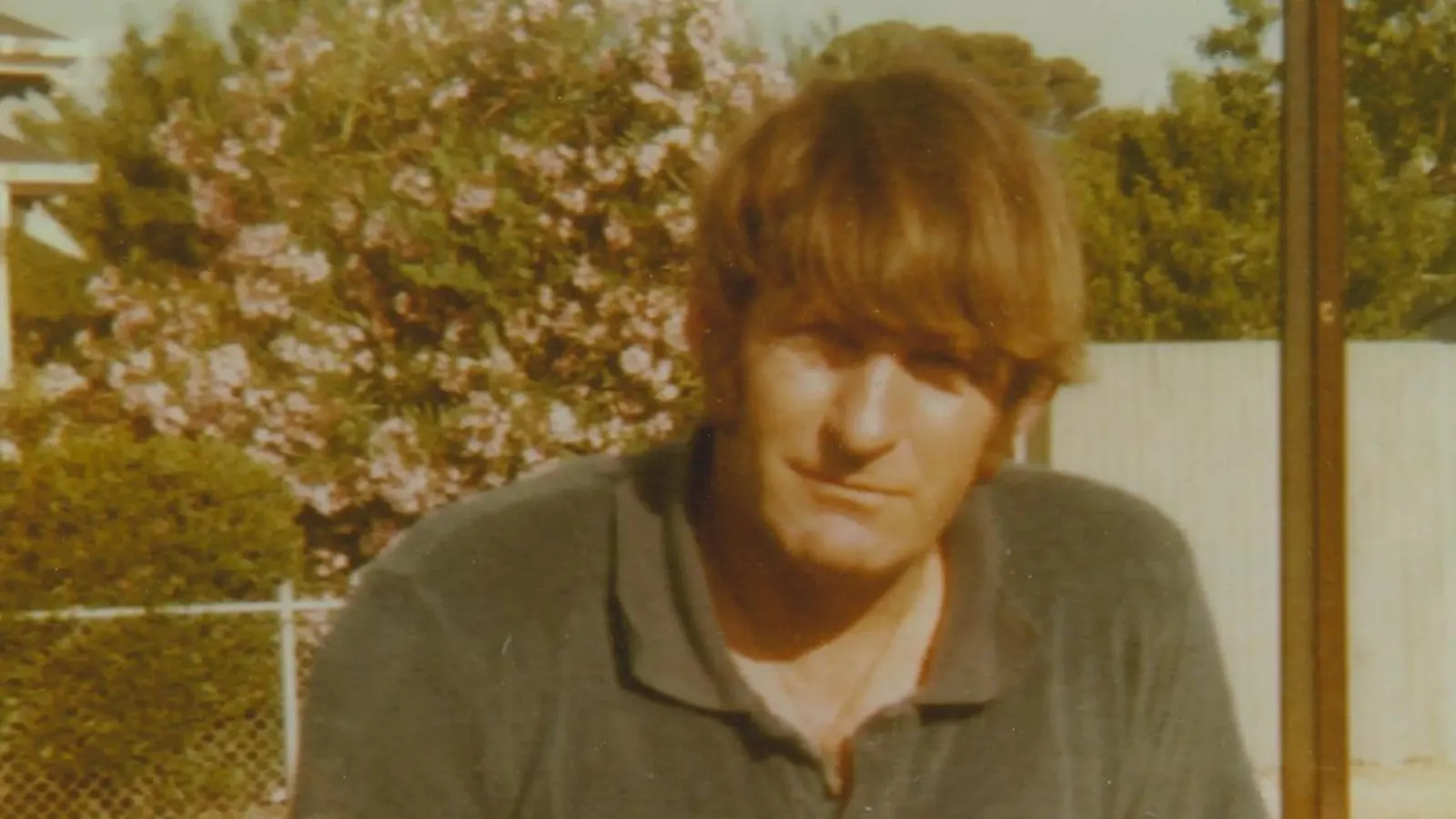 Allan Maxwell McIntyre in the 70's
Rachel Vaughn and her half brother Andrew McIntyre has a long list of sickening abuse allegations against their father Allan Maxwell McIntyre, you can listen to their full testimony to see what I mean. Their main allegations are that their father ran a high society Pedophile ring that had over 900 members from law enforcement, government, media etc. They abducted over 600 babies and children from the Goodwood orphanage between the 50s-80s to abuse sexually, through satanic rituals and then kill and eat (they were cannibals). Allegedly Allan Maxwell McIntyre was involved with Bevan Spencer von Einem and "the Family Murders", being the group "body boy" and sourcing their victims. Also, once the children were ritualistically killed their bodies would be dragged through a tunnel system under Cross Road to a butcher, where it would be sold to Satanists as meat.
"I'm not saying I believe Rachel Vaughn, I am merely trying to tell part of her story – I will leave the rest up to you to decide. She is quoted in the video "BOMBSHELL BEAUMONT TESTIMONY SET TO SHOCK THE WORLD!" as saying at (13:40):
"In 1981 when I was approximately 8 years old, I was forced to participate in the mutilation of a little blonde boy who looked to me to be around 6 years old. This occurred in a tunnel system which I believe may be the Sleep's Hill tunnels on the outskirts of Adelaide". The Sleep's Hill tunnels are currently owned by a close relative of Anthony Munroe, who was also a member of the Salvage and Expedition club and a person of interest in the Beaumont Children's disappearance" – Rachel Vaughn
In the video Rachel then Goes on to say…
Also in the early 1980s I was taken to an Adelaide hills location where (including myself) about 9 other children, as well as about 50 adults were witness to the murder of a baby boy of around 10 Months old. This murder was conducted by a man who I have identified as looking remarkably similar to a former attorney general of South Australia. The baby was handed to this man by a young woman with bright red hair and blue eyes, who was wearing a hooded, floor length green cape. This was the most Horrific of the child murders which I was forced to witness as a child. And I won't describe the death of this baby as it is too horrific, however, I will say that the death involved fire and prepared this poor little Childs body for consumption by the audience. My father offered some of that poor Baby's flesh to me that day, but I refused to eat it. He insisted repeatedly that I try the meat because it was important for the group to see I had participated in the ritual. But I refused. – Rachel Vaughn
It is important to remember this is currently all hearsay however, in the 50s – 80s Adelaide was extremely corrupt. At this time Guys like McIntyre and Stanley Hart were all known pedophiles that the cops were in league with. It seems like the police and government are still sweeping these things under the rug. Until recently, accused members of 'the Family' still had suppression orders on them, therefore the media wasn't allowed to mention them by name. It makes you think the coverup could still be ongoing to protect certain people in high places. All I know is that in Sleep Hill's tunnels, nobody can hear you scream.
[dssb_sharing_buttons _builder_version="4.9.4″ _module_preset="default"][dssb_sharing_button _builder_version="4.9.4″ _module_preset="default"][/dssb_sharing_button][dssb_sharing_button social_network="messenger" _builder_version="4.9.4″ _module_preset="default"][/dssb_sharing_button][dssb_sharing_button social_network="reddit" _builder_version="4.9.4″ _module_preset="default"][/dssb_sharing_button][dssb_sharing_button social_network="email" _builder_version="4.9.4″ _module_preset="default"][/dssb_sharing_button][/dssb_sharing_buttons]